USF for Freedom 2018
REFUGEE CHILDREN ON THE RUN:
Welcome, Protect, Promote and Integrate Forced Migrant Children
Wednesday April 11, 2018
5:00 pm to 8:00 pm
University of San Francisco - Main Campus
McLaren Conference Center - Room 250
2130 Fulton St, San Francisco, CA 94117
Free event open to the public
_________________________
The 2018 Symposium USF for Freedom aims at understand the struggle of forced migrants especially in relation to unaccompanied minors and the children of DACA. This year's USF4freedom theme is also in relation to Pope Francis's active verbs for welcoming, protecting, promoting and integrating migrants and refugees. What do these active verbs mean unaccompanied minors, separated children migrants and DACA youth dreamers? We will be reflecting on our responsibilities and opportunities to make a difference based on the best practice and recommendations of experts and leaders in the Bay Area representing nonprofit organizations and innovative programs providing hospitality, human rights representation, better conditions and integration into our communities. We will learn about the local and global struggle for refugee and forced migrants children.
Jacqueline is Assistant Professor and Supervising Attorney in the Immigration & Deportation Defense Clinic (USF School of Law). She began her career in immigration law at the San Francisco Immigration Court as an attorney advisor through the Department of Justice Honors Program in 2005. After, she worked with CLINIC's National Pro Bono Project for Children and then started her own practice in 2009. While working at her firm, she dedicated a significant part of her private practice to providing pro bono legal representation to unaccompanied immigrant children. She also worked with the Board of Immigration Appeals Pro Bono Project, the National Center for Immigrant and Refugee Children, and the Community of East Palo Alto Legal Services. She was one of nine recipients of the California Bar Association's 2011 President Services Awards for her pro bono work with immigrant children. In part due to her extensive work with children, she helped start the Immigration & Deportation Defense Clinic at USF in 2015, which is dedicated to children in removal proceedings. She currently serves as the Supervising Attorney, and she teaches the corresponding class at the law school. Jacqueline is also the AILA NorCal Asylum Co-Liaison as well as the AILA NorCal Family Detention Coordinator. In addition, she serves on the Board of Directors as Secretary for Human Rights Advocates and she is the Chair of the Board of Directors for the DreamerFund.
Throughout her career, Jane has worked to enhance educational access and quality, and improve circumstances for children and families by coupling her business, analytical, and strategic planning background with her passion for education and social justice. Within the context of forcibly displaced populations, she is keen to understand the intersection of newcomer and receiving communities here and abroad, and effective models that support positive integration that uplift entire communities. Most recently, Jane worked as Director of Strategy and Development at Refugee Transitions where she currently serves on the board of directors. Jane holds a BMATH from the University of Waterloo (Canada), MBA from Clarkson University, MA in International Educational Administration and Policy Analysis from Stanford University, and is currently pursuing an EdD in International and Multicultural Education at the University of San Francisco. Jane also serves as a regional representative for Human Rights Educators USA.
Lauren Markham is a writer based in Berkeley, California, focusing on issues related to youth, migration, the environment, and her home state of California. Her work has appeared in outlets such as The Guardian, Orion, Pacific Standard, Harper's, California Sunday, The New Republic, Guernica, and VQR, where she is a contributing editor. Her book about youth migration from El Salvador, The Far Away Brothers, was awarded a 2018 Ridenhour Book Prize for truth telling, was named a Barnes and Noble Discover New Writers Selection and a New York Times Critics' pick for 2017, has been shortlisted for the Lukas Prize and the L.A. Time's Book Award, and was longlisted for a Pen America Award. She has worked in the fields of refugee resettlement and immigrant education for over a decade, and oversees community support programs at Oakland International High School, a school she helped launch in 2007.
Jorge Chavez began his career in education in 2014 as an after-school instructor for the Boys and Girls Club of the Peninsula. It was during his time at the Boys and Girls Club that he realized how important it is for educators to view their students both from a trauma-informed and asset-based lens. Jorge currently works with Amethod Public Schools as the Middle School Wellness Counselor for Downtown Charter Academy and Oakland Charter Academy. As a member of the Founding Counseling team, Jorge is actively working to develop a comprehensive counseling program that supports students' academic and social-emotional growth. His current interests include reading and exercising. His hobbies align closely with his initiative of bringing wellness days to his campuses in which students actively learn how to manage stress through sports, arts, and meditation. Jorge's long-term goal is to earn a Doctorate in Education so that he can take on the challenge of leading a school.
Laura was born and raised in México, in the state of Michoacán. She migrated at the age of 14 to the United States. Laura is the first generation of her family to attend college and the first organizer in her family. As a student at San Francisco State University, she received a scholarship from the Chicana/Latina Foundation and was a member of the Youth Empowerment Fund Advisory Board of the Department of Children, Youth and their Families. She holds a Master of Public Health from San José State University. Laura was active as a volunteer in efforts to pass legislation (AB 540) that allowed undocumented students to attend college and pay tuition as California residents. In 2003, Laura was recruited as a Youth Organizer for the Common Roots: Youth Organizer Program. She works on environmental health, immigrant rights and language justice issues with People Organizing to Demand Environmental and Economic Rights (PODER).
Candace Chen is Program Supervisor for the Refugee Foster Care Program (RFC), a federal foster care program for unaccompanied refugee minors, at Catholic Charities of Santa Clara County, where she supervises the Program's compliance with federal, state, and local laws and oversees program quality and impact; she also served as RFC's first Legal & Policy Program Coordinator, representing refugee children and youth in immigration proceedings. Previously, Candace worked at OneJustice's innovative Justice Bus Project® to expand legal services access in rural communities, at a public interest law firm on police misconduct cases and juvenile criminal appeals, and at Asian Pacific Islander Legal Outreach representing domestic violence and human trafficking survivors. She has also served as a board member of the National Asian Pacific American Women's Forum. Candace received her B.A. from Columbia University's Barnard College and her law degree from Golden Gate University School of Law.
Mohan Kanungo is the Director of Engagement at Mission Asset Fund, a non-profit whose award-winning social loan models are building pathways out of the financial shadows for low-income individuals across the U.S.
Mohan's background in labor, legal services, nonprofit management and entrepreneurship has addressed various aspects of financial and social inclusion impacting veterans, immigrants, survivors of domestic violence and low-income families.
He has worked with community based organizations in New York and California, and has lived, studied and traveled extensively abroad. Mohan graduated from University of California at San Diego in 2007 with a degree in International Studies and Ethnic Studies.
What other leaders and organizations say about refugee children rights?
Pope Francis: Children Rights to Nationality
UNHCR: Unaccompanied and Separated Children
UNICEF: Children Refugee Statistics and Stories of Friendship
Refugee Migrant Displaced...
SAVE THE CHILDREN: PROTECTION POLICIES FOR REFUGEE CHILDREN
DACA: NO CHILD IS ILLEGAL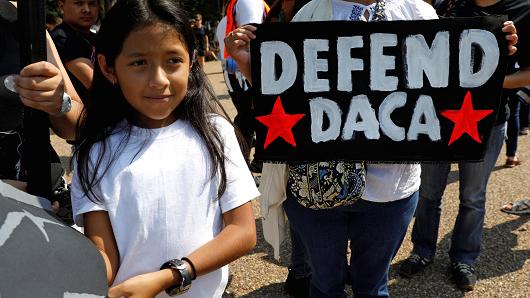 Deferred Action for Childhood Arrivals (DACA)
Numerous people have been holding signs like this to protest the Trump administration decision to scrap the Deferred Action for Childhood Arrivals (DACA), a program that protects from deportation almost 800,000 young men and women who were brought into the U.S. illegally as children. Photo: Kevin Lamarque | Reuters
Learn more: DACA at USF
About USF4freedom
The annual Spring symposium USF4freedom is a student organized conference on refugee, forced migration, and anti-human trafficking. It represents the graduate University of San Francisco's student who participated in the Academic Global Immersion (AGI) In Rome, Italy. This immersion revolves around the study of Humanitarian Emergency Management and focusses on Refugee Service Management. It is a program Directed by Dr. Marco Tavanti and offered to Master of Nonprofit Administration (MNA), Master of Public Administration (MPA), Master of Business Administration (MBA) and Master in Migration Studies (MIMS) programs to understand the crises and solutions of forced migration. The AGI Rome is organized in collaboration with Jesuit Refugee Service (JRS) and Centro Astalli in collaboration with the United Nations Refugee Agency (UNHCR), Doctors without Borders (MSF), Save the Children, and Caritas among other international, European and Italian organizations. The students also meet with Pope Francis during an Audience in the Vatican and reflect on the role of social justice and human rights in Jesuit's mission to accompany, serve and advocate.
The annual focus is decided together by the students and aims at providing a forum to understand and act with justice toward victims of forced migration due to extreme poverty, war and violence, social and gender discriminations, political and religious persecution, and environmental threats to human security.
Co-Sponsoring Organizations